Schindler Elevator Company


Select office location near you:



"Schindler Service assures that your elevators and escalators are always available. The industry's most highly trained technicians, supported by an entire global network of maintenance experts, are there to reduce service calls and keep your equipment running."

Available Services: Maintenance - Service - Repair - Upgrades - Modernization - Installation

Area of Operation: (NY) Statewide including: Area of Operation: New York - Statewide Including: Albany, Binghamton, Brooklyn, Bronx, Buffalo, Elmira, Hempstead, Ithaca, Long Island, Manhattan, Nassau County, NYC, Niagara Falls, Peekskill, Queens, Rochester, Syracuse, Schenectady, Staten Island, Suffolk County, Utica, White Plains, Yonkers


Visit Web Site
Kone Elevator Company


Select office location near you:



"We set the standard for advanced maintenance services, ensuring you get the longest lifespan and best performance out of your equipment. We deliver quality maintenance services for elevators, escalators, and autowalks. Whether it's KONE or non-KONE equipment, our maintenance solutions provide the highest-quality and most reliable service for keeping it running, in compliance and up to the highest safety standards."

Available Services: Maintenance - Service - Repair - Upgrades - Modernization - Installation

Area of Operation: (NY) Statewide including: Area of Operation: New York - Statewide Including: Albany, Binghamton, Brooklyn, Bronx, Buffalo, Elmira, Hempstead, Ithaca, Long Island, Manhattan, Nassau County, NYC, Niagara Falls, Peekskill, Queens, Rochester, Syracuse, Schenectady, Staten Island, Suffolk County, Utica, White Plains, Yonkers


Visit Web Site
Otis Elevator Company


Select office location near you:



"The reliability and efficiency of your elevator system ultimately depends upon the maintenance programs you choose. Regardless of your elevator's manufacturer, genuine Otis maintenance offers the predictability of the industry's only standardized work processes, the best trained people, the most reliable parts and the most advanced tools. The best elevator in the world is only as good as its service and support systems. That's why Otis' maintenance program remains consistent, measurable and innovative."

Available Services: Maintenance - Service - Repair - Upgrades - Modernization - Installation

Area of Operation: (NY) Statewide including: Area of Operation: New York - Statewide Including: Albany, Binghamton, Brooklyn, Bronx, Buffalo, Elmira, Hempstead, Ithaca, Long Island, Manhattan, Nassau County, NYC, Niagara Falls, Peekskill, Queens, Rochester, Syracuse, Schenectady, Staten Island, Suffolk County, Utica, White Plains, Yonkers


Visit Web Site
ThyssenKrupp Elevator Company


Select office location near you:



"Keeping your elevator running the way it was designed to run is our specialty. We give our technicians training on all elevator equipment - even if it's not ours. So, whatever service you need, we can handle it with the least possible amount of downtime."

Available Services: Maintenance - Service - Repair - Upgrades - Modernization - Installation

Area of Operation: (NY) Statewide including: Area of Operation: New York - Statewide Including: Albany, Binghamton, Brooklyn, Bronx, Buffalo, Elmira, Hempstead, Ithaca, Long Island, Manhattan, Nassau County, NYC, Niagara Falls, Peekskill, Queens, Rochester, Syracuse, Schenectady, Staten Island, Suffolk County, Utica, White Plains, Yonkers


Visit Web Site
Go cellular and save 35% on monthly elevator phone line fees. Learn More

Learn 10 easy money saving tips for elevator contracts. Learn More

Estimate the life expectancy of your elevator equipment. Learn More

Find the latest information on elevator codes, laws, safety standards. Learn More

New York Elevator Resource Directory
How to get Uncle Sam to pay for your ADA elevator upgrade. Learn More

Avoid costly mistakes when upgrading your elevator cab Interiors. Learn More


AMSE A17.1 -
safety standards for elevators, escalators. Learn More

Get listed in our New York Elevator Company directory. Learn More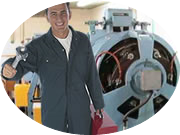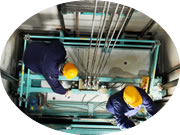 The Best New York
Elevator Companies | 2018
New York Elevator Companies - NY

Liberty Elevator Corporation


Select office location near you:



"Liberty Elevator is a Local 1 I.U.E.C. and Local 5 I.U.E.C. independent elevator company specializing in custom preventative maintenance programs, new installation, modernization, repair, and custom cab refurbishment."

Available Services: Maintenance - Installation - Modernization - Refurbishment - Custom Elevators

Area of Operation: New Jersey, New York, and Pennsylvania.


Visit Web Site

Why pay for elevator phone lines? Go cellular and save 35% on monthly elevator phone line fees Learn More